Back to Products & Services
Chapter Startup Package
Chapter Merchandise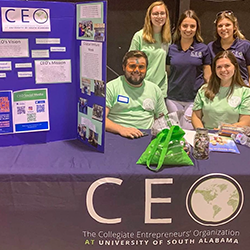 The Membership Startup Package is an excellent way to display your affiliation with our global HQ brand! This provides recognition to your university, and also helps to establish awareness of your chapter across campus. The below items have been selected by the headquarter office as the most effective tools for developing you across campus influence. Reach your target audience and build the right buzz around your chapter with the below branded table cloth, pop up banner, chapter fliers, and official chapter plaque!
Table Throw

Best used at student organization fairs, and recruiting events.

Trade Show Banner

Permanent placement on campus, to aide in membership recruitment.

Chapter Fliers

Distribute fliers across campus and in classes to encourage members to join CEO!

Chapter Plaque

Displayed in your entrepreneurship center, or deans office to generate program permanence.
---